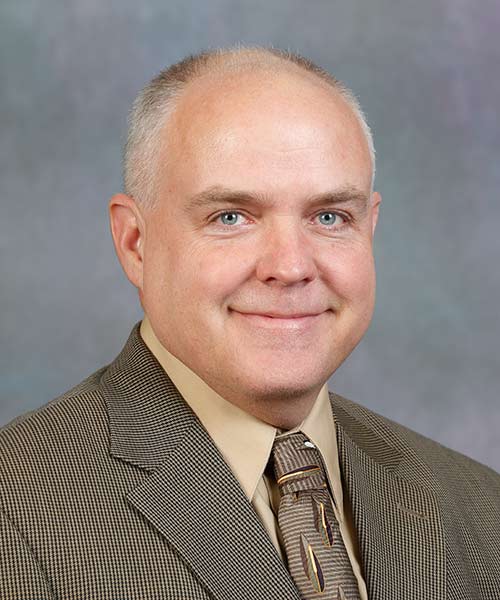 ---
Department
Public Health and Sports Medicine
Role: Faculty
Campus: Springfield
---
Postal mail
Missouri State University
Public Health and Sports Medicine
901 S. National Ave.
---
Details
Education
PhD, 2000, University of South Alabama
MPH, 2014, Missouri State University
MS, 1993, Missouri State University
BSEd, 1989, Missouri State University
Teaching
Clinical Epidemiology
Biostatistics
Software and Data
Research Methods in Public Health
Professional experience
Dr. Thompson received his PhD in Marine Science from the University of South Alabama and an MPH and MS (Biology) from Missouri State University. Dr. Thompson also received an undergraduate degree in biology and secondary education from MSU.
Prior to coming to Missouri State, Dr. Thompson was Lead Instructor for Biological Sciences at Ozarks Technical Community College. During his time at OTC, Dr. Thompson taught classes in general biology, genetics and environmental science.
In addition to his academic background, Dr. Thompson is an Environmental Science Officer in the United States Army Reserves, currently holding the rank of Lieutenant Colonel. During his time in the Army Reserves, Dr. Thompson has served as Commander for several units, including Preventive Medicine units in Missouri and Minnesota. Dr. Thompson has been deployed to SW Asia and the Balkans. While deployed, he served as the Director of Public Health for Kuwait and Chief, Preventive Medicine Services, Camp Bondsteel, Kosovo.
Research and professional interests
Substance abuse
Barriers to health care utilization
International travel and public health
Vectors and vector borne diseases
Awards and honors
Military
Meritorious Service Medal
Kosovo Campaign Medal
Global War on Terrorism Expeditionary Medal
Global War on Terrorism Service Medal
Outstanding Volunteer Service Medal
Armed Forces Reserve Medal with M Device (2X) and Bronze Hour Glass
Overseas Service Ribbon with 2 Device
NATO Non-Article 5 Medal for the Balkans
CENTCOM Hunter-Strickland Nominee – Exceptional Preventive Medicine in Deployed Settings
Civilian
FCTL Teaching Award in High-Impact Learning Practices
Greene County Extension Elected Board Member
University of South Alabama Graduate Research Fellow
Dauphin Island Sea Lab, University Programs Fellow